The web's number one source for high quality die-cut vinyl firefighter decals, firefighter stickers, firefighter gifts, custom decals, horse decals & dog breed stickers.

Large 6 inch emblem stickers. Made from high quality 7 year vinyl.

Only the colored part of the die-cut decal sticks to the window.

Our Firefighter Decals are available in a variety of colors. Great Fire Decals and Emblems.

We also carry full color sticker emblems.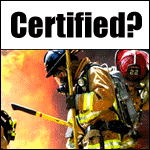 Click Here to Go Back to the firestickers.com Home Page for more fire decals and emblems.


Click here to view our Cafe Press items.
Graphics are copyright of Firefighter Decals Store.
Last updated: January 20th, 2016


Firefighter - Fireman Decals / Vinyl Stickers


What do firefighters do?

Firefighters protect the public by responding to fires and other emergencies. They are frequently the first emergency personnel on the scene of an accident.

Every year, fires take many lives and destroy billions of dollars worth of property. Firefighters help protect people and property. They are often the first at an accident or emergency.

It's one of the most rewarding careers on earth and the proudest tradition of Community Service.

Becoming a firefighter.

The first thing you need to become a firefighter is you must be 18 years old or over and have a high school degree or GED. You must also pass a medical examination, drug screening, and complete a rigorous test physical strength and stamina in order to become a firefighter.


Are you looking for a job in the firefighter industry? Search in your area below.



Google+